It's been without doubt the strangest week in my business life.
Unprecedented, unparalleled – all the adjectives etc. etc. It started relatively normally on Monday with us heading towards a record month. Then at 5pm the government announces early stages of lockdown and the strong encouragement of remote working. By the next morning our planned WFH strategy of the previous week was firmly in place. By Wednesday morning I was taking one of our team members to buy a landline; finding loo roll for another and travelling around the southwest dropping off mobile phones…my world and those of the team, changed! Taking the key things, I've observed from this unique week I would categorise as follows:
My work team
A tight knit bunch and one I'm proud to lead. They have embraced WFH and given we are a SaaS and advisory business a lot have been immersed into this way of working already. Microsoft teams has been a revelation sitting alongside the other apps we use to interact with our clients and prospects. The first working observation, given the 'downtime' our target audience has with being at home and self-isolating are the more frequent conversations with us through these mediums. The second observation as the week has passed is the way the team has embraced the strange unfolding of events and whilst understandably anxious about things like contracting the virus through to being paid to juggling home and work life – they have remained positive and good humoured – a great skill. By introducing daily catch up meetings to share best practice; check we are all still human (!) and by keeping the business-critical operations in play has meant a sense of normality has prevailed.
The lights being firmly on
As a business it is critical, we have taken steps to weather the storm over the next few months and possibly beyond. That is about being realistic and pragmatic as well as understanding. We addressed this as a senior and wider team by ensuring everyone is aware of their importance and accountability over this time – every deal done and renewal will be critical; every client issue resolved; every invoice sent; every debt chased; zero downtime for our services is, even more than ever, critical. The first phase, as I'm sure a lot of businesses have done, is to cut non-essential spend; defer tax payments and where possible loan interest repayments; keeping a careful eye on invoices being paid to suppliers to preserve cash-flow. Spending two and half hours to get through to HMRC for 10 minutes airtime with them – was actually, worth the wait and from the conversations I had, productive. 
Political Landscape
I have built time every day to listen to the PM's address around 5pm and can only imagine what it must have been like in WW11, when the PM addressed the nation in a similar manner. In my view the updates have been clear and what has been needed. Whilst closing schools and lockdown are headlines the details that sit behind these decisions must be incredibly hard to iron out and deliver down to our communities. The most recent of which being the fiscal stimulus – this will prove vital over the coming months. Key to businesses like mine will be to ensure these grants are swiftly paid to aid cashflow. When you combine this government intervention with responsible behaviour by all of us in terms of social distancing and self-isolation, the hope is that this will 'send the virus packing' in 12 weeks' time. 
Home life
I arrived back home late on Wednesday night to find my 16 and 18-year-old daughters in a state of mixed emotion around not having to sit A 'levels' and GCSE's later this summer. Without knowing the details of how this is going to play out exactly, I felt sad for them. Mainly because they will not be able to experience, for this slice of their lives, the emotional roller coaster of study, leading up to these exams; the high and lows of the results; how these are delivered and then the letting off of steam over the summer. Then there is the thought of them not returning until September; again, and in the case of my eldest, she's missing out on her end of school celebrations after such a long time together. I'm sure things will be done nearer the time but now they will be less authentic. Then the point that will take my wife (and me!) over the edge – being at home day in day out as a family. We all love each other dearly but till September?! I'm sure routine, structure, pragmatism and compromise will all play their part in the coming weeks!! 
Summary
As I look back at this week and I see the fighting spirit of my team; the business community; my friends and family. There's a resoluteness that often comes in adversity. I see that to protect home and work life, decisions on safety and business will continue to be made, to protect all. I see a commitment nationally and locally to extinguish this disease, all of which combined with a feeling of the unknown still lingering in the air. So, I leave this article with a line from Rudyard Kipling's poem 'IF' which for me seems to sum up how we all need to tackle the weeks ahead.
"If you can meet with Triumph and Disaster And treat those two impostors just the same;"
Onwards! 👍
Craig Millhouse
Managing Director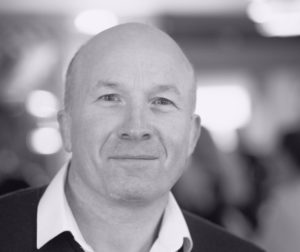 March 2020